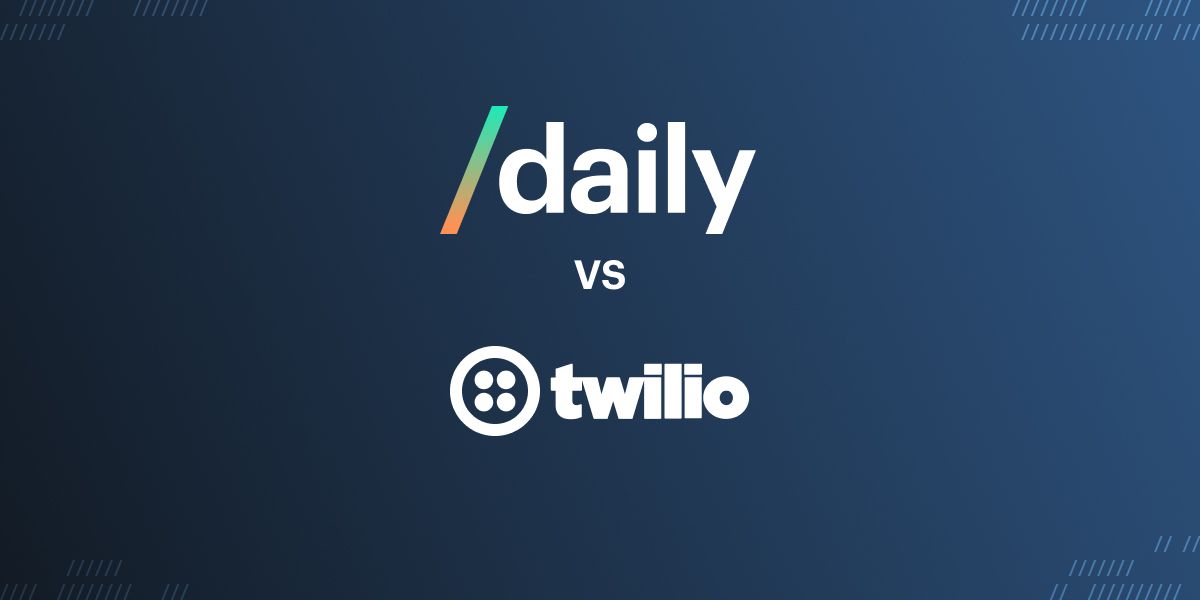 When evaluating real-time video API's, you might compare Twilio and Daily. As an older platform in the enterprise communications space, Twilio started with SMS, and then added  other features like voice and video. Daily has focused on real-time video and audio since day one. We help customers of all sizes — from Fortune-500 clients to seed-round startups — integrate and scale video-call use cases.
One of the questions we hear a lot from customers is, "how does Daily's pricing compare to Twilio?" Specifically, customers ask about Twilio's P2P and WebRTC Go pricing.

Daily's call pricing is almost always more competitive than Twilio. We use a simple and transparent pricing formula that makes clear the usage costs you'll encounter in real-world implementation. All our plans offer unlimited TURN server usage — unlike Twilio Go. TURN server usage is essential to many types of calls, including  those on mobile networks, as well as calls for users on corporate networks .

As a company that's 100% dedicated to video and audio, the Daily platform provides access to reliable, secure global infrastructure; excellent docs and platform support; and deep expertise in video — a lot more than just competitive pricing.

Summary
Daily's simple pricing includes all call connection costs, including TURN usage, which is key for calls to succeed across browsers, networks, and devices.
Daily customers receive the highest possible call quality, regardless of their payment plan. Developers can get built-in bandwidth management with our prebuilt UI widget, or you can opt to manage this manually.
Unlike Twilio's platform, developers using Daily do not have to "predeclare" whether a room is p2p or SFU — we switch seamlessly between connections, ensuring call quality.
Unlike other video API platforms, Daily provides actionable call logging and telemetry data from the dashboard at no additional cost. Building out this analytic dashboard would take significant time and resources.
Daily is the fastest time-to-value video API platform. We have customers who prototype in minutes, and go to market in days (even hours), saving time and money, and using developer resources efficiently.
Daily aims to have the most competitive pricing in the industry. You can read a detailed blog post about how we decided to price our API here.

High-level pricing overview
Daily's pricing is transparent. We keep it simple, but are glad to talk about your use case.
Daily's offers three pricing plans — Free, Launch, and Scale — as well as several programs and discounts to help different kinds of customers. These include volume discounts for enterprise and high-growth customers; a free trial of our HIPAA version; and Startup Program credits, beginning at $1,000 credit to startups as part of our Startup Program.

Our free plan is truly free, including TURN bandwidth used; our Launch plan is $9/month; and our scale plan is $199/month. Daily's Free and Launch plans include 2,000 free participant minutes. Our Scale plan includes 10,000 free minutes. Standard pricing for additional minutes is $0.004 per participant minute.
Recording costs $0.015 per minute, regardless of how many participants are on a call. HIPAA compliance is free as part of the Scale plan. There are no hidden costs.
Daily customers can host up to 200 participants in a room, regardless of their pricing plan (300 beta). Daily is trusted by companies of sizes across the globe and all Daily customers receive access to the same secure, reliable infrastructure.

Contact us to discuss your use case, and options like our Startup Program and volume custom pricing.

Daily's value over Twilio
Daily does not charge for TURN usage.
For 1:1 video calls, Twilio Go offers free participants minutes. However, TURN server usage is capped at 25 GB for Twilio Go customers.

TURN servers are essential to WebRTC calls. Calls on a cellular network, or behind a firewall, use TURN servers. If you are building a product for mobile users, or users behind corporate or academic firewalls, TURN server usage is key.
How much TURN usage you consume depends on your use case. Based on our data sets, 25GB TURN usage amounts to approximately 3,000 minutes — or 50 hours — of calls.

Daily offers seamless P2P and SFU switching
Because Daily switches seamlessly between P2P connections for smaller calls and a remote server connection for larger calls, Daily video rooms can host 2 call participants as easily as 200. Daily customers benefit from the same underlying architecture regardless of call size or payment plan — and enjoy a lot more flexibility than building on other platforms.
Using Twilio, a developer must set the room type ahead of time, depending whether they are building larger group calls (Twilio Video Groups), smaller P2P calls (Twilio Video P2P), or 1:1 calls (Twilio Go).

Daily rooms can host up to 200 call participants, regardless of payment plan. We scale with your needs.
Twilio pricing locks customers into predefined call types. Twilio Video Groups can host up to 50 call participants, while Twilio recommends that rooms built on Video P2P host no more than three participants at a time.
Daily's simple pricing lets customers be more flexible with regard to call size and use cases.  

Daily charges significantly less for recording
Recording is available for our Scale customers. We priced recording based on how we technically handle the data, therefore we charge per call minute. Recording with Twilio is priced according to how many participants are on a call.

Recording calls with 2 or 3 participants will be cheaper with Twilio. However, Twilio's pricing scales proportionally with call size. With calls with four participants or more, Daily's platform costs less — much less, for large group calls.

Want to learn more?
Daily is focused on real-time video and audio. We are an expert in all things WebRTC, with deep experience in all forms of video technology. When you work with Daily, you are getting an expert in the video space and a team 100% dedicated to video. If you have any questions, get in touch: we love to chat.