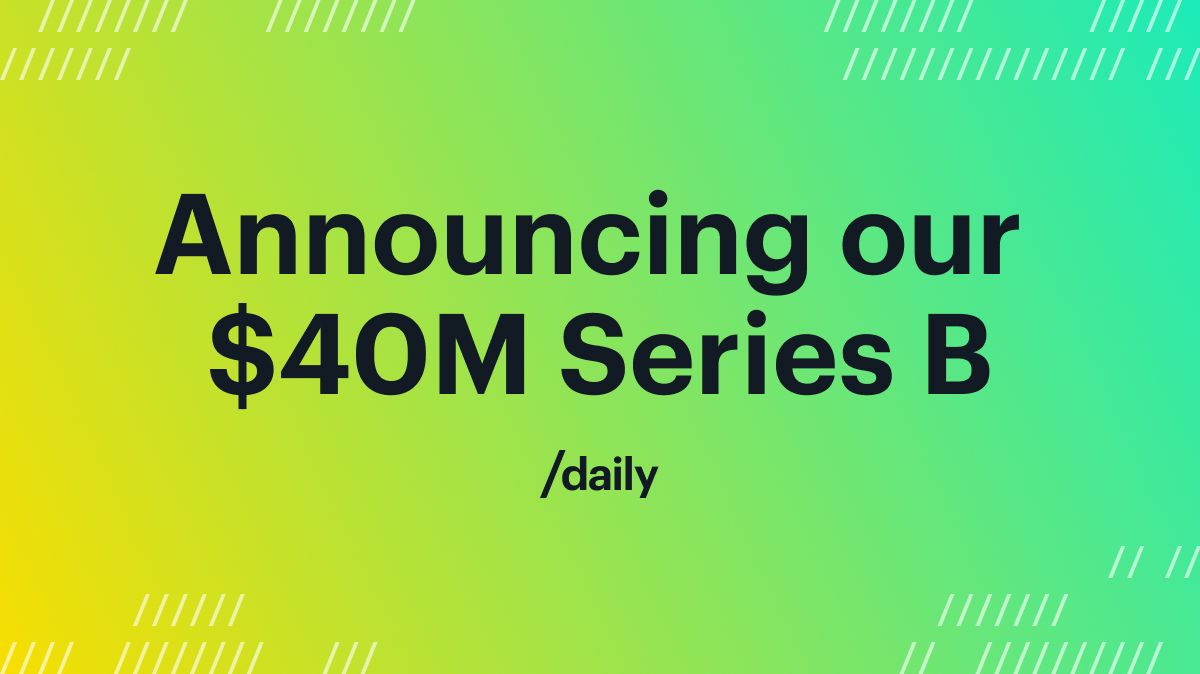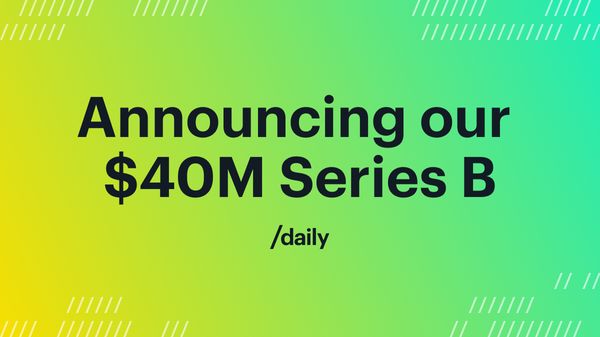 Today we're happy and grateful to announce a new $40 million round of funding, led by Roseanne Wincek at Renegade Partners. You can read the full story on TechCrunch.
We founded Daily as a bet on the future of video and audio on the Internet. We're video geeks going back to the days of writing custom encoders to stream real-time video over "2.5G" cellular to Nokia 6600 phones. From our launch, we built Daily from the ground up on top of WebRTC, the open standard that is enabling the next generation of video and audio experiences.
We love working on developer tools that pull the future forward a little bit and expand access to that future for everyone. Our goal is to build the most high performance, flexible, robust video platform in the world and make that platform available to every developer and product team.
The future of video and audio communications is emerging across a broad range of applications: productivity tools, telehealth, education, social and gaming, high-touch customer support, live commerce, events and entertainment, and IoT and robotics. We have always believed that developers across all of these use cases need access to the following things to successfully scale video and audio features:
Global infrastructure that can deliver high-quality streams at very low latency to anyone, on any device, anywhere in the world.
Cross-platform APIs that make hard things easy and really hard things possible, and that remove the pain point of developing for multiple operating systems, hardware configurations, and web browsers.
A real-time dashboard with detailed metrics, analytics, and support for optimization and debugging.
Terrific docs and tutorial content.
This is our third round of funding in 18 months, with a total of $60M raised, and we're continuing to accelerate our work on all of those critical building blocks. In addition, our team is greatly expanding what our APIs can do. We're especially excited about three big new things that are coming soon:
Sessions that scale to infinite sizes with complete flexibility about who is talking to who in real time. (We've developed these large session features with flexible track subscriptions and bandwidth management in collaboration with our customers who are building social video and audio spaces.)
New native iOS and Android libraries written in Rust.
Server-side video and audio rendering with UI components that can be used in the browser, in native apps, and in our server-side recording and live broadcast pipelines.
(As a side note, we are always testing new features. If you are a developer and need something specific, please feel free to ping us. We may already have it available as a private beta or a feature flag. And we love to get feedback on everything we're doing from people building interesting things!)
We're also publishing our volume pricing discounts, so you know right up front without having to negotiate with us what your charges will look like (affordable!) when your application scales. We aim to be transparent and to have the most aggressive pricing possible — we want to grow our business by enabling as many customers as possible to grow their businesses. Our Startup Program also supports early stage teams with credits, and we're happy to talk about custom pricing if you have an unusual use case.
Finally, we're continuing to grow our team. Last month, Varun Singh joined Daily as Chief Product Technology Officer. Varun co-founded callstats.io, which pioneered monitoring and analytics for real-time video and audio. He is also co-author on a dozen of the IETF and W3C WebRTC specifications. This month, Sarah Milstein joins us as VP of Engineering. We're a fully distributed engineering team, currently spanning time zones GMT-9 to GMT+5:30. Sarah has 25 years of experience managing and scaling distributed organizations.
If you are interested in what Daily's doing and might want to work with us on video infrastructure, client libraries, data analytics, front-end components, customer support, sales, marketing, or documentation and content, we'd love to talk to you! We're a remote team that values kindness, diversity, and working on interesting problems with people we respect.
Most of all, I'd like to express our gratitude to the developers who have partnered with us on this journey. Thank you.