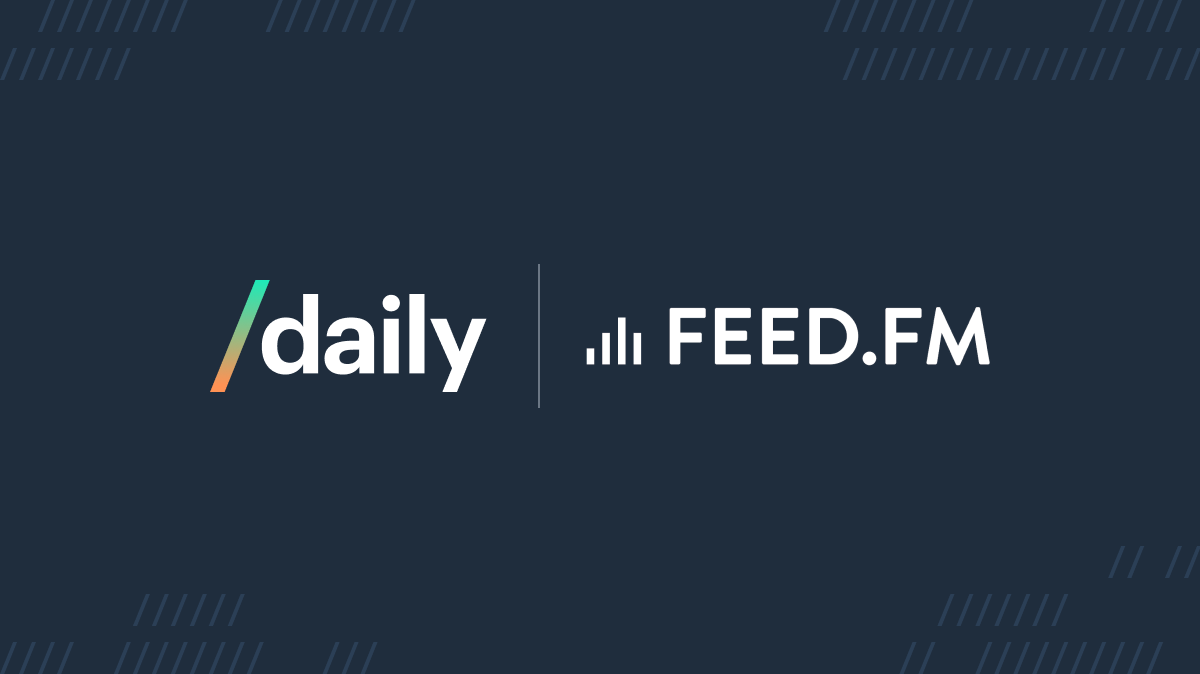 At Daily, our mission is to help developers and teams harness the power of video to build interactive and immersive experiences. Music is a key factor in providing an engaging digital experience, but licensing popular commercial music is typically a prohibitively time-consuming and costly challenge for most development teams. What if you could simplify the process of licensing and integrating popular music into your app?
Cue the celebration music - we're thrilled to announce our partnership with Feed.fm, the leading B2B music platform. All Daily customers will have a turnkey way to integrate popular music into their apps.
Feed.fm's comprehensive music platform includes APIs and SDKs to stream pre-cleared commercial music, complete with user analytics, payments to rights holders, and legal indemnification for all customers. Their all-in-one licensing solution provides access to an unmatched selection of music sources, from major label commercial hits to an exclusive library of original tracks and mood-based collections.
Best of all, instead of sending your users to another app or requiring a third-party premium subscription to start playing music, Feed.fm's white-labeled integration keeps customers where you want them - in your product.
Harness the power of music to increase engagement and retention with Daily and Feed.fm
Feed.fm's data shows that customers that integrate Feed.fm-powered music into their apps can triple average session time and double 90-day retention rates. Their expert curation team takes a science-backed approach to design musical experiences that ensure the right music is delivered to your audience to maximize engagement.

Developers and teams can now integrate music into their digital experiences in a matter of days by combining the power of Daily's best-in-class video and voice with Feed.fm's easy-to-use music APIs and expert curation team.
Here are some examples of how we see video and music working together to significantly increase in-app engagement, retention, and satisfaction.
Fitness Classes
Music is an essential element of the workout experience. In fact, 93% of people say music makes or breaks the workout, according to a recent Feed.fm survey. Feed.fm powers music for the world's leading digital fitness brands, including Mirror, Nautilus, and Tonal. Leverage the deep catalog of curated stations for every fitness modality to maximize engagement and keep attendees coming back for more.
Workout music can be curated to match your classes on a wide variety of factors, including PM, genre, and intensity. With over 730 million songs streamed in digital fitness apps in the last year, Feed.fm has the data to create workout music stations that drive results — and your workout.

Yoga and Meditation classes
The demand for digital wellness content continues to soar. The right soundtrack helps participants to feel relaxed, get into the right mindset, and can dramatically enhance the benefits they receive from yoga and meditation instruction. Feed.fm offers ready-to-go, market-tested music collections for yoga, meditation, relaxation, and anxiety, developed from its experience programming music stations for leaders in the digital yoga space, such as Alo Moves and Aaptiv.
Remote Work and Collaboration
Teams partner with Daily to build innovative collaboration and productivity apps to improve the remote work experience and keep teams connected. Research has shown that music can positively impact people's ability to increase focus and attention and to improve social connections. You can integrate Feed.fm's pre-curated collections for focus and attention, or work with their curation team to develop a custom music experience to enhance any type of collaborative virtual environment.
Telehealth
The best online patient experiences are fueled by intuitive UX and a personalized digital experience. Feed.fm offers music solutions that can enhance the end-to-end patient experience, including music collections for preventative healthcare, on-hold music, and background music for treatment sessions. With the power of music, you can create holistic digital environments that provide patients and practitioners with a supportive and relaxing setting driving better outcomes.  
Live events
Daily offers a world-class platform for live video events, including support for 100,000-person interactive live streams and up to 1,000-person calls all with cams and mics on. Music is one of the key ingredients to take your event from good to great. Whether it's adding in a hot mix of music for the wait time in between sessions, a soundtrack for fun interactive events, or incorporating hit songs into presentation content, Feed.fm can take your event experience to the next level.
Get started today
If you are building with real-time video and want to integrate any type of music, view the demo code here or reach out to our team to get started.