Launched in early 2020, MeetAnyway has established itself as a fast-growth company in the online events space, helping attendees all over the world make meaningful connections. Companies hosting events on the platform, including Tel Aviv University and BMW, have welcomed guests from over 60 countries.

Part of Y Combinator's winter 2021 batch, MeetAnyway provides event planners a flexible alternative to stiff online meeting platforms and traditional video conferencing tools. Instead of being locked into a regimented workflow, event organizers can create different types of online spaces within a single event, providing a variety of user experiences for attendees.
"You really have full flexibility to create your own map," Marc Metz, co-CEO of MeetAnyway explains. "With other events platforms, you basically have to use  what they offer you."
As well as flexibility, MeetAnyway emphasizes organizer support and user experience. Providing a reliable video call experience is central to this experience. However, after testing and implementing multiple video APIs, the team struggled to find reliable video quality that scaled to the size of their events.
"That's why we were really happy once we found Daily," Metz explains.
"We were really desperate to find a stable solution. We found that with Daily."
Marc Metz, Co-founder and co-CEO, MeetAnyway
Designing a flexible online events platform
A former event organizer himself, Metz knows the industry intimately. Metz was co-founder of Party Like Gatsby, a series of opulent, 1920s-themed parties — complete with circus performers, live music, and DJs — in 19 countries across three continents.

When event organizers were forced to move events online as a result of the pandemic, Metz understood the frustration of trying to work with traditional video conferencing tools.  

"Putting 20 people together in a call doesn't make an event, an event," Metz says.

For several years, Metz and his cofounders —Sascha Metz and Erich Lehmann — had been trying to bring value to the industry without being on the front line. The team were already working together on an innovation in the events ticketing space, but pivoted when they realized the greater need and opportunity to bring events online. Metz and his colleagues set out to design a platform that integrated video calling, and provided flexible options for engagement and connection.

Events organizers using MeetAnyway build different event areas using an easy drag-and-drop map builder of different elements. This might include a "stage" for a live speech or keynote address, where several hundred attendees can watch, and even post questions by live chat. Organizers might create an audio room where attendees can "raise their hand" to join in a conversation. Organizers can record videos in advance, integrate other websites, and add areas for "mingling" — video rooms where attendees are matched randomly with others for three-minute, one-on-one calls.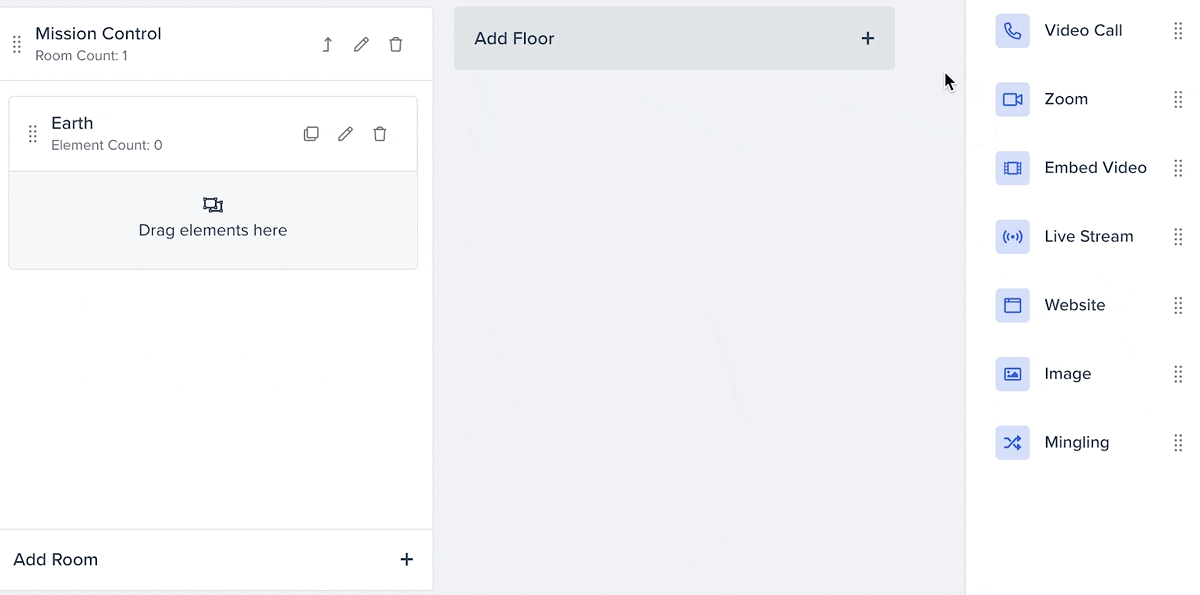 MeetAnyway is just as easy to use from an attendee's perspective. Users navigate a tab menu of different meeting areas and can see the avatars of other attendees. Much like an event in real life, you can see who's around you and move to different areas to suit your mood.
Incorporating space for spontaneity
It was important to Metz and his team to integrate opportunities for spontaneity, since these moments are often key to how much we enjoy or remember an event. This was something he heard from his own users.

"A professor told us that the most interesting and meaningful conversations he has are while he's at lunch, waiting to get his plate from the canteen," Metz explains. "We heard similar stories again and again."

Attendees might also want a place to connect with people they've met before, just like in real life.

"Sometimes people already know before an event that they want to speak to a specific person. They can send them an in-chat message," Metz explains. Users can then set a certain time to meet for a one-on-one call.

Each online space, from stages to mingling, is connected to a video or audio room with different settings. Event organizers can give attendees control over some of these settings, where it makes sense: if someone at an open table decides they would like to continue the conversation without being interrupted by someone new, they can lock the video room so that no one else can join that call.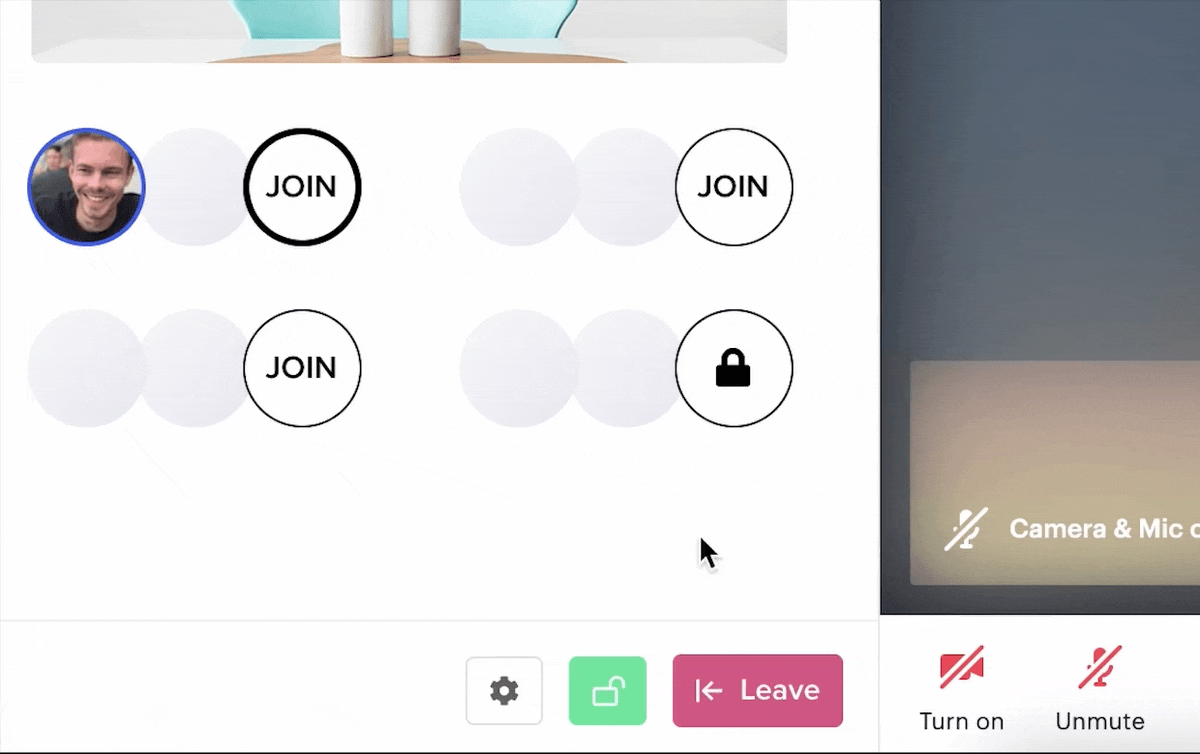 "When you're at large events, you can sit in a corner together and have a private conversation," Metz explains. This provides a greater sense of privacy, control, and ease.
Testing video call APIs
‍Metz and his team tested several video providers but, before discovering Daily, nothing provided the reliability they needed.
"Our number one criteria was quality. Any call has to be good."
Marc Metz, Co-founder and co-CEO, MeetAnyway
MeetAnyway first tried an open-source platform. "At a certain point, it wasn't reliable." After a call broke down in the middle, Metz looked at other options. MeetAnyway customers needed to be able to trust the platform. "They needed 100% reliability."
MeetAnyway tried two large, publicly-traded video chat API companies. They passed on the first because of bad call quality.
The second platform was slightly difficult to work with. "We spent at least one week implementing it. The main challenge was the custom grid, and getting all the buttons and functionality in order."

When they had it working, Metz's team hosted a party online. "We invited our 50 best friends," Metz says.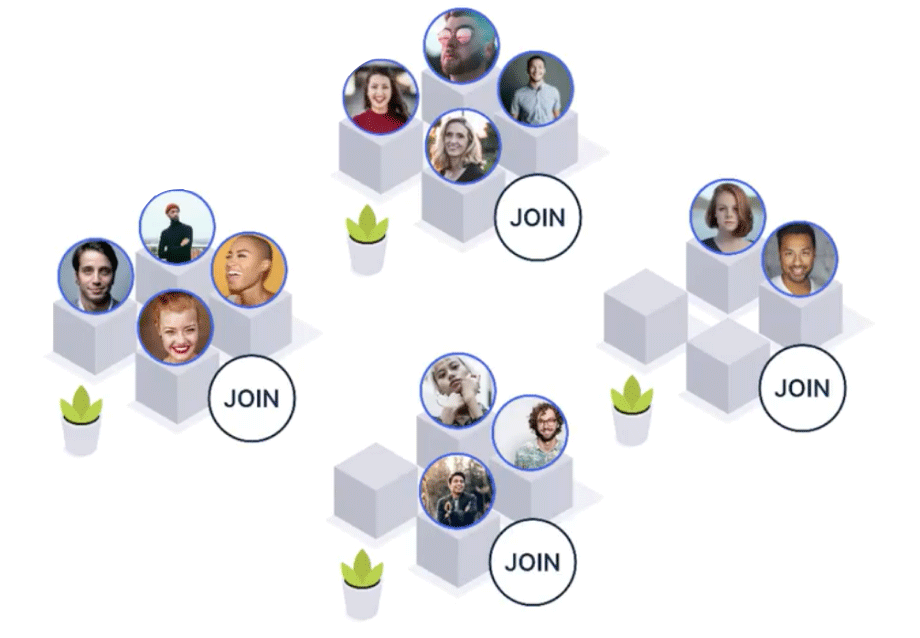 "One guy shared his screen, clicked on 'stop sharing', and half of the people in the call were left with a black screen. We still don't understand what the issue was."

In the long run, they could not work with a platform that was unreliable, or which they couldn't easily troubleshoot. "It always felt scary to have a big event, because we couldn't rely on the service, and didn't know what the problem was."
Daily provided quick solutions for building flexible video experiences
MeetAnyway integrated Daily Prebuilt, Daily's turnkey call interface. This allowed them to start hosting events almost immediately. "It was easy to implement, and it worked," Metz says.

After testing it privately, they began testing it at live events — with great results. "Event organizers who knew us before said they could see the difference," Metz says.

"The documentation was very helpful," Metz says, talking about integrating Daily Prebuilt. "It was just very easy for me to understand. It took me a few hours and I understood everything. If you know the concept of API calls, it's basically not much learning."
Online events after the pandemic
Although MeetAnyway started during the pandemic, online events will continue to be important for networking, community, and growth, with several advantages over in-person meetings.  

"We had this job fair for schools in the biggest cities in Germany. But because it was online, people joined from really small villages," Metz explains.

Remote events give recruiters access to a wider talent pool without the environmental impact of travel; likewise, students in remote locations, who might not have time to travel, can get information first-hand, by talking to recruiters remotely. It also cuts costs for everyone concerned.

More than just replacing in-person events, the platform can provide a space for gathering communities, which have always flourished online. This is key to their growth and success. "Our biggest growth right now is from people who've visited events hosted on MeetAnyway, then going on our website to contact us about their own needs," Metz explains.

Ultimately, Metz believes that providing a reliable platform will help people build connections that last for years to come. The reason is simple, and tied to one of their main goals as a company. "We connect people online in a meaningful way," Metz says.