If technology has promised one thing over the years, it's that it will make us more productive. This is part of the reason Focusmate isn't a traditional productivity tool.
"We didn't want to be a tech company, exactly," Taylor Jacobson, CEO and founder of Focusmate explains. "Focusmate helps you do things that you wouldn't otherwise do. That's a hard human behavior problem to crack. That's what we want to be experts at."
Focusmate doesn't block distractions, or show you any checkboxes or tasks, and there's barely anywhere to take notes. At first glance, what the platform appears to offer is companionship: the app is built around 50-minute video-calls, delivered with Daily Prebuilt, which can be booked every 15 minutes on its calendar-like interface.  
"It only took us a few minutes to embed a test call in our application with Daily."
Mike Galanos, CTO, Focusmate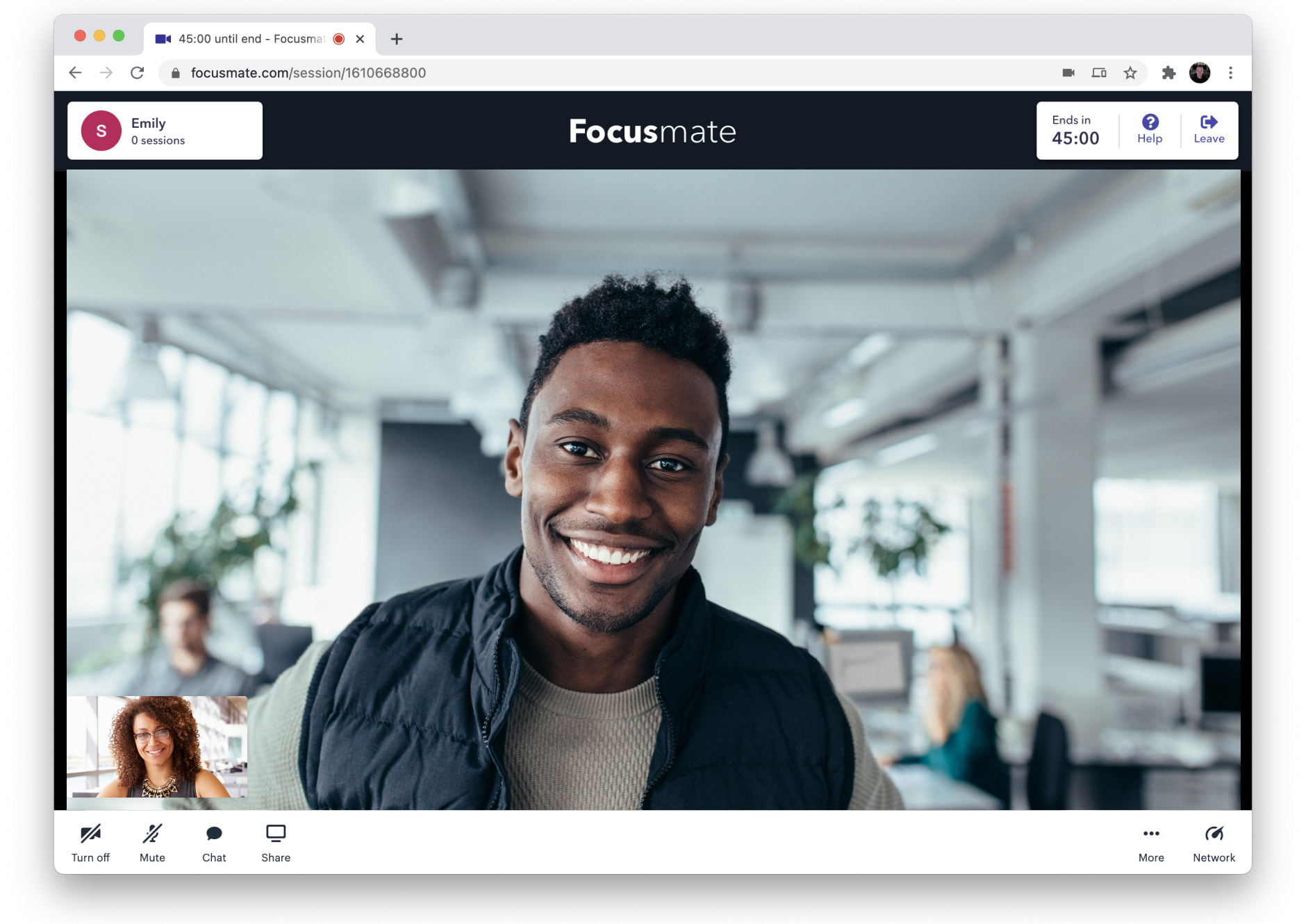 Once you've booked a call, Focusmate partners you with another user, who might be a member of your organization or a shared community. At the beginning of the session, the callers explain to each other in 30 seconds or less what they plan to accomplish during that time. Each partner works silently on their own individual projects, and after 50 minutes a timer goes off. After a 30-second explanation of how the session went, they say goodbye.
What Focusmate provides is deceptively simple. Stating the goal of each session ahead of time and then staying connected to a partner holds users to task, gives them a defined sense of purpose, and creates a sense of accountability. For 50 minutes at least, Focusmate users know they're working towards their goals.
The Focusmate team have been able to concentrate on building their core product, in part thanks to Daily's platform. For Jacobson, this means developing a platform that helps others live their best lives. As he puts it, "I think this is true for all of us: we have this innate desire to find meaning in our lives, and to contribute to other human beings."
"Instead of focusing a huge amount of attention on building and maintaining a video service, we got a top-of-the-line one instantly."
Evan Hammer, Head of Product, Focusmate
Developing the idea for Focusmate
Like so many early-stage startups, the Focusmate origin story reflects the learned experience of its founder. Back in 2010, Jacobson started working remotely. Despite being engaged with the company's mission, he found remote work lonely and isolating.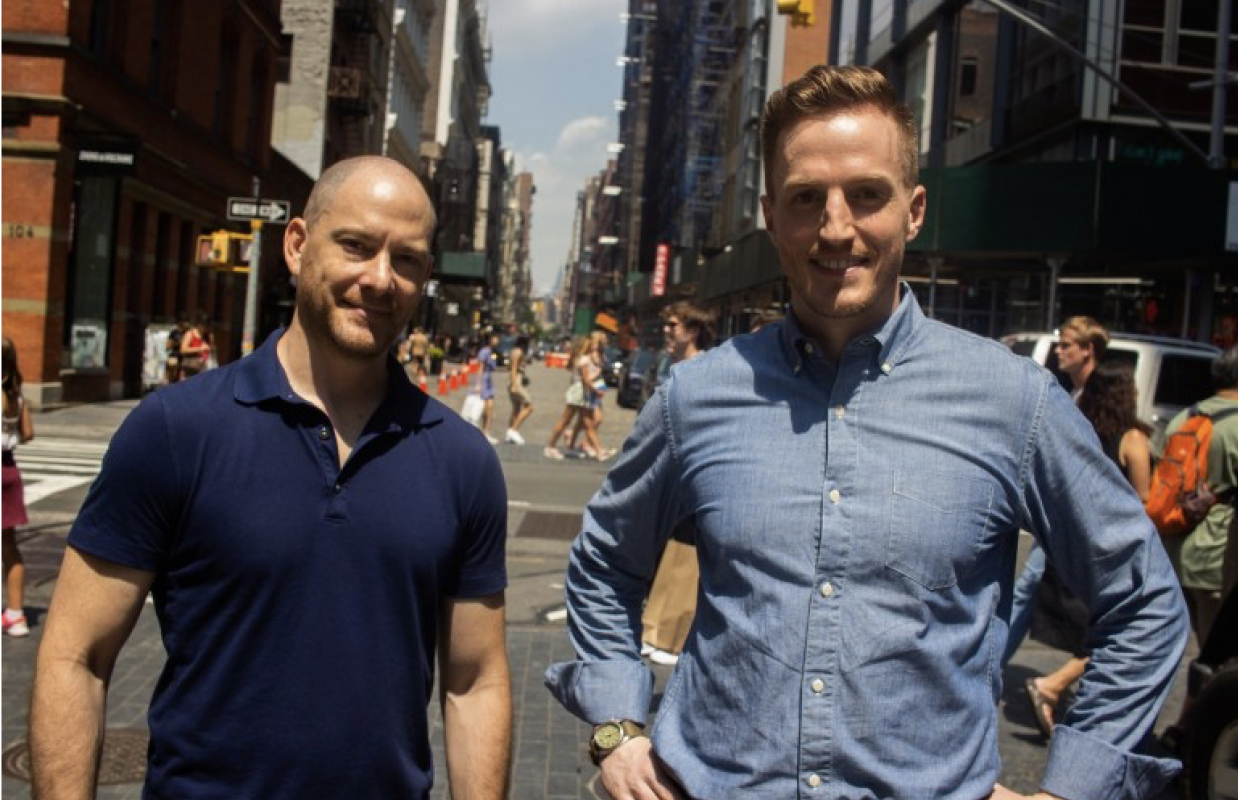 "I just couldn't get stuff done. It just didn't work for me to be at home alone without anyone there," Jacobson explains. He spent the next year working on his own project, a non-profit organization — yet he still felt despondent.
"I spent years and years trying every productivity hack you could think of, and honestly not really having success with any of them," Jacobson says.
The experience was so profound that it drove him to study productivity and train to be an executive coach, which he began doing professionally after moving to New York. More than anything else, Jacobson wanted to help people achieve their goals—and yet he was still struggling with productivity and motivation himself.
"Without using an API, we would have had to ditch our product vision and just focus completely on video, just to manage that very basic aspect of our product,"
Taylor Jacobson, CEO and founder, Focusmate
The solution that ultimately worked for him was a matter of serendipity and developed out of a "magic moment of vulnerability with a friend."

"I was talking to a friend who was also working from home, and also an entrepreneur. He was procrastinating really severely on a pitch deck," Jacobson explains.

Meanwhile, Jacobson was procrastinating on his own project. Jacobson suggested they get on Skype for a remote work session. Before they started, they addressed what they wanted to achieve in very specific terms. "Being very specific about action items is known to increase productivity," Jacobson explains.

The idea was that they would share their goals, write them down in the chat for accountability, then stay on video with each other while they worked. Afterwards, they would update each other on their progress.
"We tried this structure, and it just worked," Jacobson says. He had the strong sense that this process could also work for others.
Building a coworking platform on Daily
While video is intrinsic to the Focusmate user experience, how they've built it has evolved with their product journey. The earliest iteration was external video, coordinated through a Facebook group. "You would DM your Skype name to somebody else," Jacobson explains.

The team then found a free open-source framework and integrated video into their site themselves, but they soon faced challenges and video call quality issues.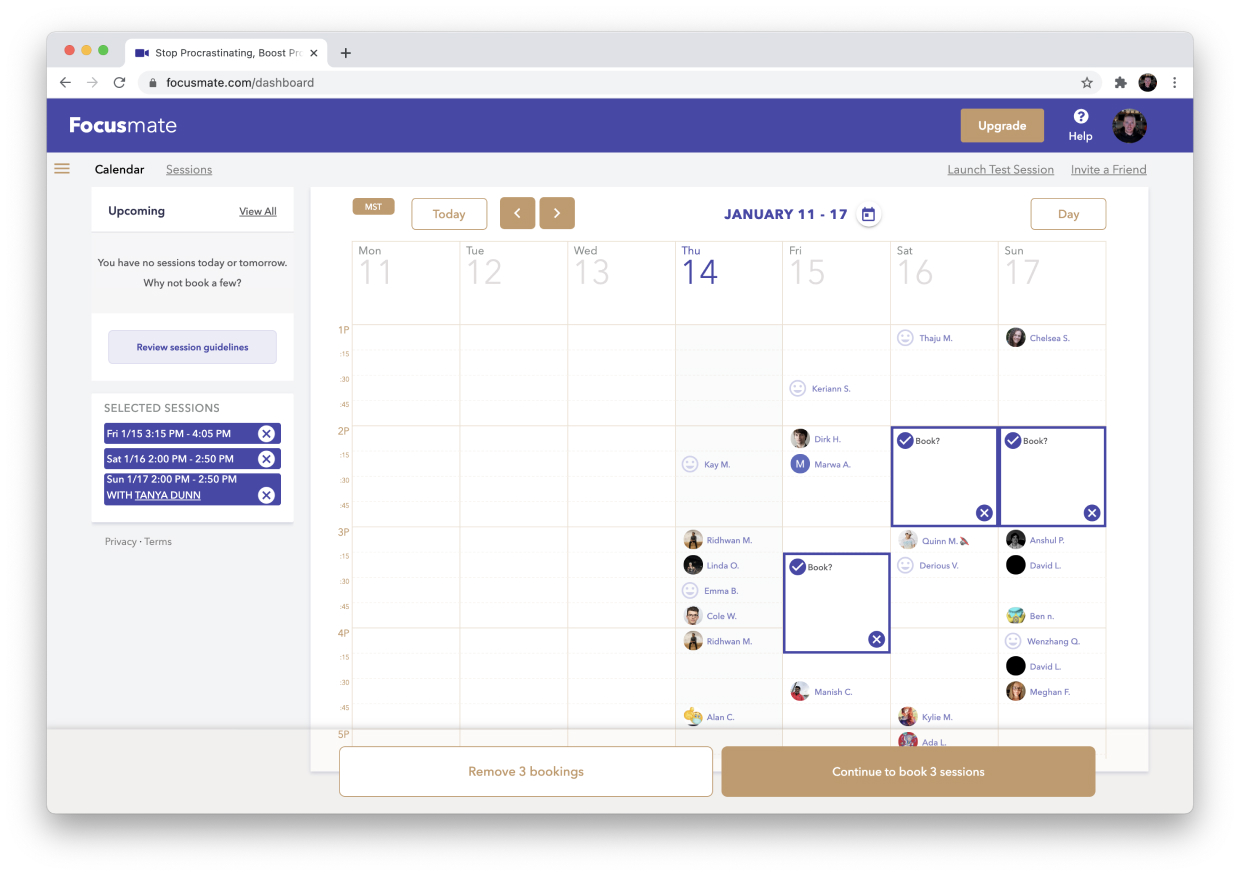 The team needed a product that was reliable, which they didn't have to spend a ton of time managing. As Jacobson puts it:  "Our priority was, how do we make Focusmate fun and engaging and rewarding and joyful? Not how do we ensure that you have a great internet connection with a person who's maybe on the other side of the world? That's really a tech problem, as I see it."
Switching to the Daily API had several benefits. It reduced their video call issues by 89% — a huge boost for their users.
When errors do occur, or when questions come up, the Focusmate team knows they'll get resolved quickly. As Evan Hammer, Head of Product at Focusmate, explains, "Every question we ask gets a quick and thorough response. Plus the whole team is a lot of fun to talk to!"
"The documentation was super clear and thorough. It's one of the main reasons we decided to partner with Daily."
Mike Galanos, Focusmate CTO