If you've attended a remote happy hour or team-building session since the pandemic began, you probably already know Kumospace. The platform was purpose-built to give communities, teams, and friends a place to hang out and build connective tissue. Since launching in 2020, a long list of familiar companies have hosted events on the space.
Yang Mou, co-founder and CEO, first started developing the idea for Kumospace at the beginning of the pandemic. As countries started going into lockdown, teams, communities, and friends suddenly became reliant on video calling to connect. "Everyone was put in these calls with 20 people," Mou recalls. "Unless it was someone giving a presentation, if you wanted any sort of participation, it was very awkward."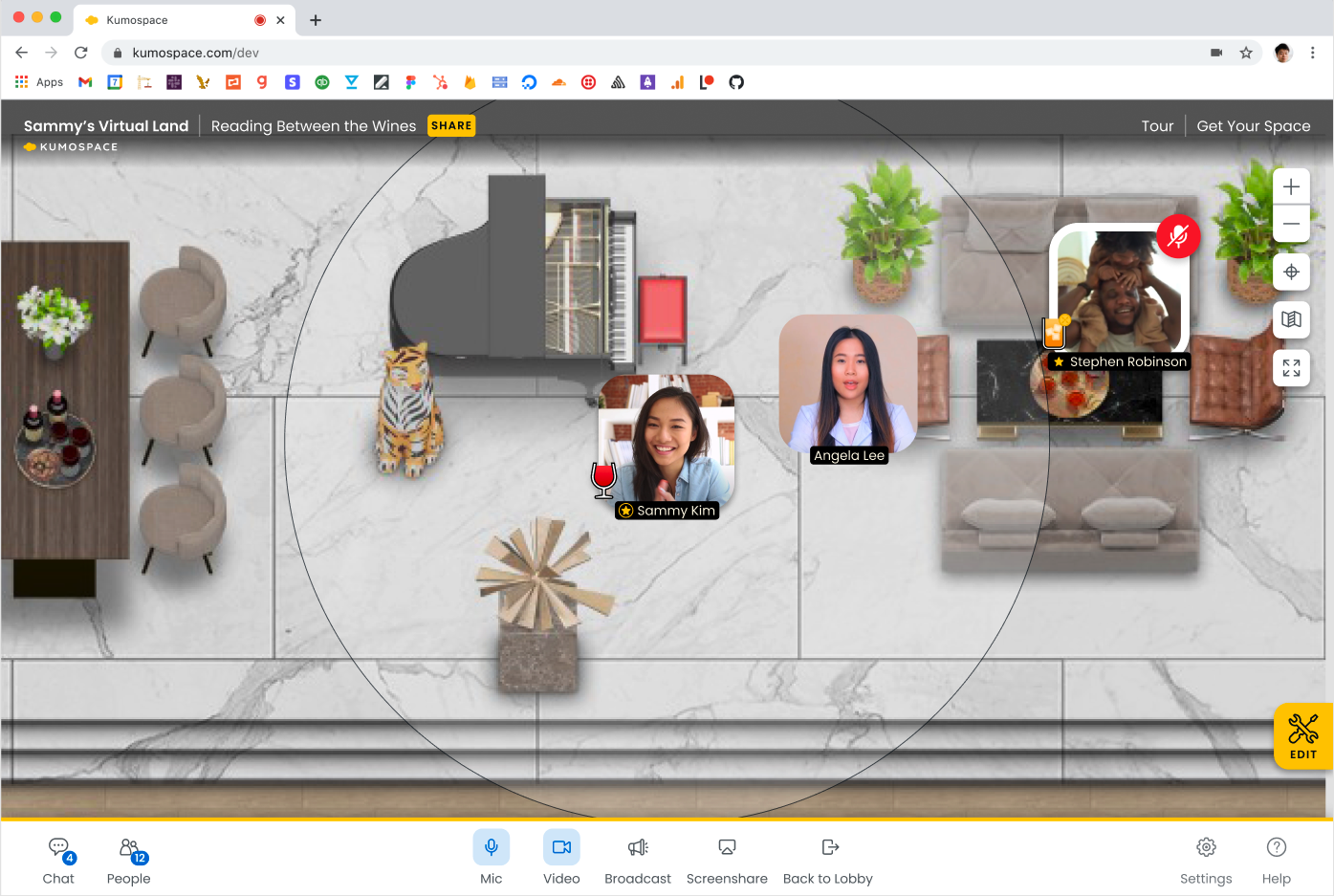 By contrast, Kumospace was designed to provide a space that feels "very immersive and human." Video calling is central to the Kumospace product, but it's fully integrated into the wider user experience. Rather than using breakout rooms, multiple conversations happen in the same space, which hosts can customize, starting with templates like a virtual office or bar. Spaces are persistent, meaning Kumospace works well as a virtual office or clubhouse, as well as a platform for one-off events.
Kumospace initially worked with Twilio for the video calling component, but ran into problems as events on the platform began to scale, along with frustrations around pricing. The team soon began evaluating new partners.
"Our video infrastructure is the single-most important decision when it comes to choosing a vendor. It's critical that we have the right partner."
Yang Mou, CEO and co-founder, Kumospace
The importance of choosing the right video partner
Taking cues from video games, Kumospace emphasizes participation and group interactions. Real-time video is key. "Video is the most important component to how we think about the product and what we bring to the table," Mou says. "Having video is essential for building connections with other people, because in real life, you see people, you see their reactions, faces, and hands, which are the most expressive part of the body."
There are two user-experience tracks on Kumospace—hosts and attendees— both of which provide multiple opportunities for engagement and interaction. Hosts can decorate their virtual space with furniture, decor, and even animals, customizing however best fits their use case. They can also add games, like chess, which act as an ice breaker for guests who might not know each other very well. Guests can move around the space and choose who they talk to and interact with. Multiple conversations happen in the same call simultaneously and, while you can see the avatars of everyone in a room, you only speak to those who are closest.
This spatial audio and video feature, powered today by Daily's track subscription API, has been core to the product since launch. Knowing that other conversations are happening nearby provides guests with a sense of activity around them. It also gives people an opportunity to mingle, which is impossible with breakout rooms. The decor and details of the space provide a shared context for conversations, creating a sense of shared experience more than a video call.
"With Daily, the strongest selling point for me is that we rarely have to touch the AV code. That's the ideal AV experience. You get it in, it works, and then you focus on what makes your product unique."
Michael Nguyen, Senior Engineer, Kumospace
As the visionary behind the product, Mou is philosophical about the importance of engagement, which is baked into both tracks of the Kumospace user experience. "Engagement is the core thesis of our product. We want everyone to participate when you bring a group of people together." Engineer Michael Nguyen stresses the practical side of engagement. "If you want to host a 5,000 person event, you care about call quality, having a seamless sign-on process, and how much you're being charged for capacity. If there's a chess game people can play, great. But that's not why I'm using your platform."
The challenges of scaling as a successful growth-stage company
As Kumospace began to scale, they began to run into issues with their first video API provider's room limit: Twilio video rooms can only host 50 callers. "We would often get feature requests to go over that limit," Mou says.
The Kumospace team also experienced frustrations related to pricing and support. This mostly related to the experience of being a growth-stage company, while working with a company of Twilio's size. The platform had great documentation and delivered reliable calls for smaller events, but the Kumospace team found it difficult to get straight-forward answers from support team, and lacked a dedicated point of contact. "[Twilio] is really designed for enterprise," Mou says. "Your support tickets get routed to a different person each time."
"Daily gave us better pricing without restricting our options."
Yang Mou, CEO and co-founder, Kumospace
Kumospace also struggled to access volume discounts, which they could only access by prepaying for usage. "That's very hard to do as a startup. If you're growing double digits every month, it's really hard to project usage accurately," Mou says.
The unexpected benefits of switching platforms
Kumospace began evaluating new video-call API platforms according to four criteria: pricing, scalability, reliability, and ease of use. Because of their frustrations with Twilio, they placed a premium on pricing and scalability.
Daily's flexibility and transparency around pricing was a big factor in Kumospace's decision-making. "Daily was much more flexible and easy to work with," Mou says.
Kumospace was able to get started quickly with Daily without changing much of the existing logic in their code. When it comes to switching platforms, "there is the one time setup cost. That was a few days to get it up and running."
Daily's dashboard proved helpful in optimizing call quality and troubleshooting as the team ramped up. "Having that live dashboard was really nice, and all the information on it was very useful for tracking usage and debugging issues."
These days, the team have "effectively zero" engineers working on video. "Almost all of our engineering effort is focused on building in new Kumospace features," Nguyen says. "That's really the ideal AV experience."
While the decision to switch platforms was driven by the need for more flexible pricing and support at scale, the team have found unexpected benefits from the relative simplicity of Daily's code. "Daily gives a nice level of abstraction," Nguyen explains. "There's literally a method in the call called Start and Stop Screen Share… That took several hundred lines of code with one of your competitors. With Daily, it took four."