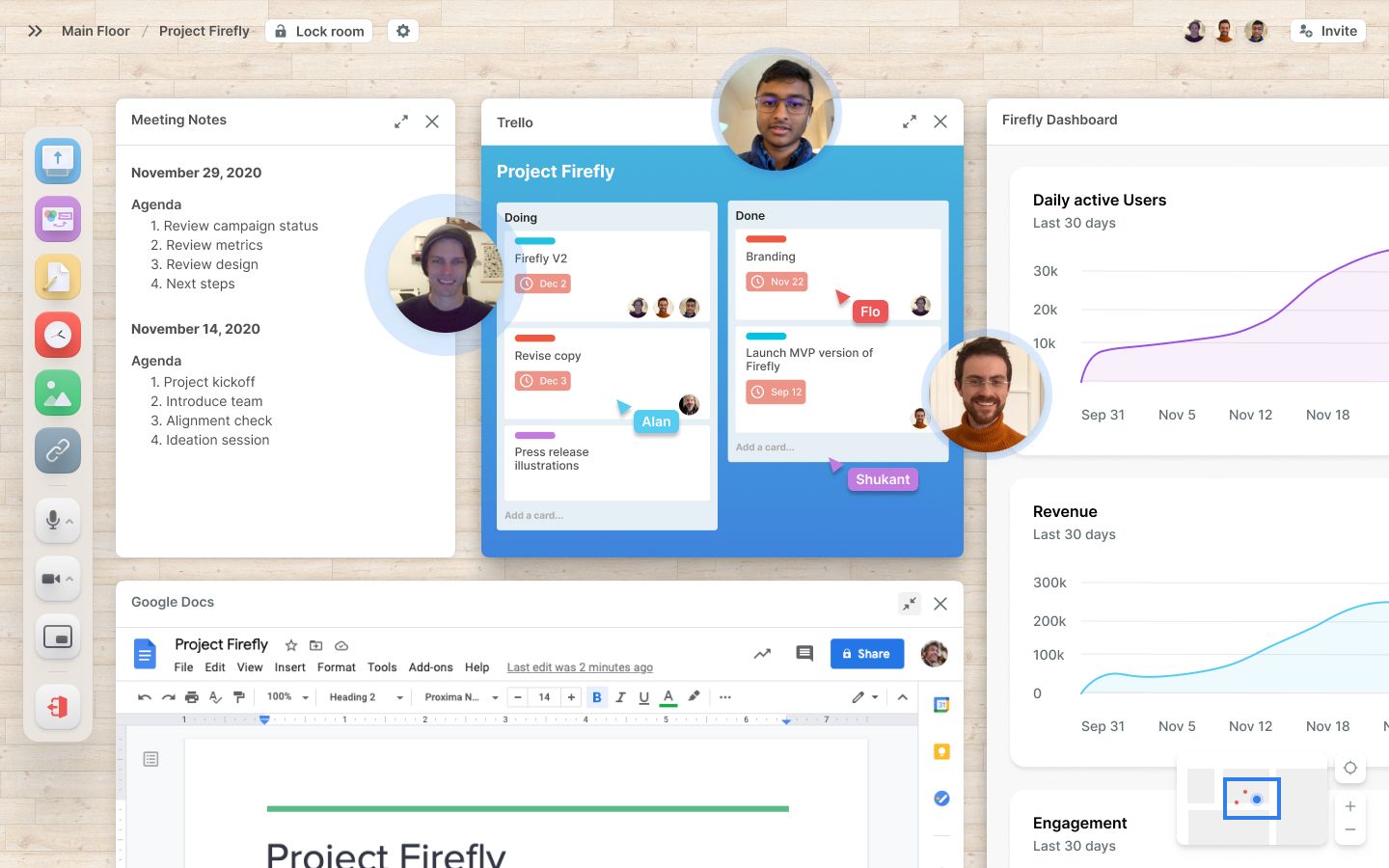 Team culture is built partly through shared experiences and daily interactions. These can be purposeful and structured, like formal meetings, or informal hallway chats. But what connects these encounters, and what is often most hard to reconstruct in a digital environment, is a shared sense of space.
Flo Crivello, CEO and founder of Teamflow, believes that sharing space is key to teamwork. Teamflow — which recently raised a $35M Series B — puts spatial thinking at the core of its design, embedding workflows like video calls and apps into a virtual office. Users have full control over the layout of their office, down to choosing the chairs and floorboards.
Teamflow distinguishes itself from similar tools in the many ways it mimics real life.  One of its core features is spatial audio: colleagues and guests can see each others avatars, and only hear those nearby.
"We think that today's tools are too transactional and too focused on productivity. We want to bring a little bit more collaboration and fun to the office."
Flo Crivello, CEO and founder, Teamflow
By building on the Daily API, Crivello and his team were able to rapidly prototype the video calling element of their design — while building out the other elements of their vision that distinguish Teamflow.
The importance of a shared workspace
Crivello's appreciation of shared space developed from his own personal experience working as part of a distributed team at Uber.
After several years as an engineer, Crivello went on to work as a product manager. Initially, his team "had an amazing sense of camaraderie." But as the organization expanded into new markets and shifted to more distributed work, Crivello witnessed a decline in morale, communication, and productivity.
Crivello began to consider that the lack of shared space might be the reason for this decline. He recalls sitting on a couch in the office, seeing other teams across the room, and missing the ability to connect spontaneously with his own team. He realized how nice it was just to be able to see colleagues informally.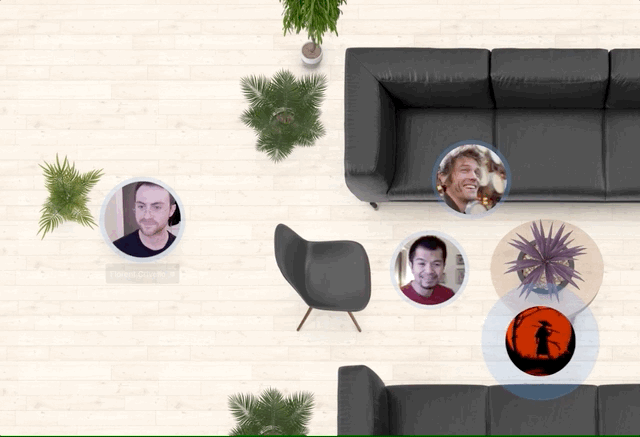 Soon after, during a six-month sabbatical, Crivello read an essay called Spatial Interfaces by John Palmer, a former Snapchat designer.
"Humans are spatial creatures," writes Palmer. "This is powerful knowledge that we've left out of lots of software. Almost any software can use spatial concepts to become easier to understand."
Reading Palmer's essay helped Crivello identify what had been missing in his first experience with distributed work. "I read that blog post by John Palmer," Crivello says, "and literally I closed the tab and started working on Teamflow."
Designing a virtual office with spatial thinking in mind
Teamflow was built on three ideas:  spatiality, apps, and persistence. Fundamentally, the app's UI resembles the floor plan of an office.
When a team first sets up in Teamflow, it customizes the layout, setting up desks, work areas, and meeting rooms. Teams also integrate apps, like whiteboard and notepads.
"We resisted for the longest time having furniture," Crivello explains. "We actually ended up circling back to [it] because we realized that furniture [serves] a function."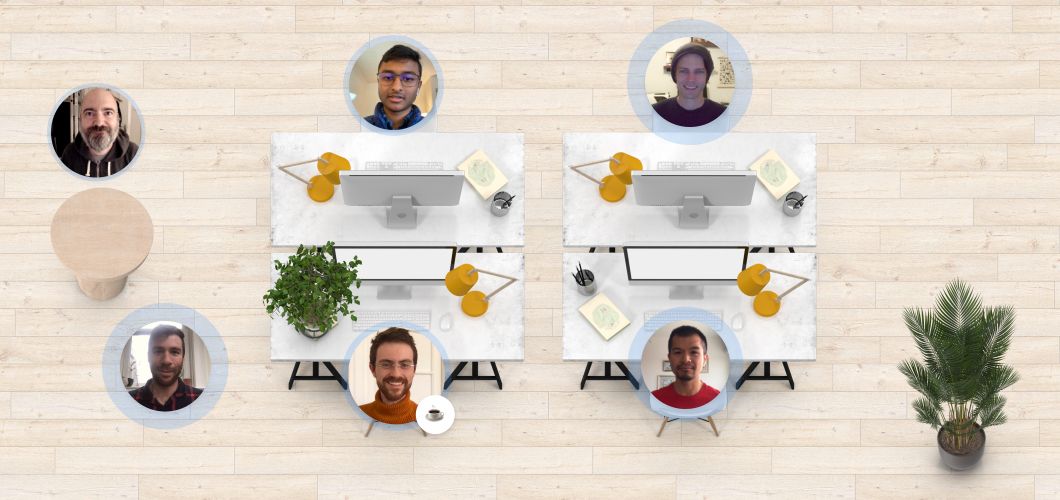 With that in mind, users might set up space for a brainstorming session with a circle of chairs and whiteboard. Another part of the office might represent a team pod of desks.
As Crivello explains, "a meeting does not have the same dynamic if you have one chair sitting in front of 50." You're more inclined to start a conversation by the water cooler than approach someone at their desk.
Into this office setting, Teamflow embeds real-time video and app workflows, to enable both quick hellos and deep project work.
Building on real-time video for organic communication
Integrating video calls was key from the start. Crivello understood the importance of face-to-face interactions for collaboration. He points to a recent study where 30% report a higher satisfaction rate, when online meetings include video, compared to audio alone.
As a new generation of collaboration tool, real-time video in Teamflow is more organic than transactional — teammates see each others' video in a bubble on the floor plan, like they might see each other across the office in real life. How users experience video and audio is tied to space and purpose: they can "walk" through the office by moving their video bubble.
"I actually started building this by modifying Daily's code sample and moving things around."
Flo Crivello, CEO and cofounder, Teamflow
Teamflow users only can hear other people who are near them. As you pass by a colleague, you can exchange quick hellos or chat unplanned. A marketing teammate can be at their desk, and look across the office to see (but not hear) engineers in a meeting room.
Video calling also can be used to talk to guests outside the team. Users can create meeting links, corresponding to an office's rooms. The links are 1-click: guests just click and appear in the room, to make meetings as easy as possible.
Crivello notes how, by comparison, traditional video calling forces teams to constantly reset. "When you leave a room, the work is wiped out."
Instead in Teamflow, the digital space remains the same, even after users leave. Much like a physical whiteboard stays up in a conference room, a whiteboard used in a Teamflow meeting room "persists."
Crivello draws a comparison to the way many teams work on a project basis, setting up so-called "war rooms." In Teamflow, a team can click to join a room, for example, and see the shared documents from the last session, to understand decisions that were made.
Building on Daily for the best time-to-value
From the very beginning of development, Crivello built on WebRTC, which provides the seamless, native video Teamflow requires.
"Initially I started building my own WebRTC thing, but it's just very complex to build that kind of thing yourself," Crivello explains.
After exploring different solutions, Crivello built prototypes with Daily and a competitor platform for comparison. In terms of time-to-value, Daily was unrivaled: Crivello was able to get up and running with a prototype in three hours.
"I actually started building this by modifying the code sample and moving things around," Crivello says, noting that the docs are "very, very good!"
[With Daily], "you're dealing with a domain expert and an expert in WebRTC."
Flo Crivello, CEO and cofounder, Teamflow
From the time he built his early prototype to officially launching the product, the Teamflow team has been able to iterate quickly — with support along the way. "The Daily team is super responsive," Crivello says. In exchanges with the Daily team about optimizing video quality, "you're dealing with a domain expert and an expert in WebRTC."
Using Daily allows Teamflow to focus their resources on what differentiates them in the market — their unique and powerful UI. To this end, the Teamflow team includes some of the top talent in webGL, the standard for 3D graphics in the browser. Teamflow is also working rapidly to add more integrations, like Google Drive and Trello.
Even Daily's pricing structure was simpler to work with. Some other platforms "charge you as a function of the square of the number of participants on each call, which is insane and absurd," says Crivello.
Ultimately, using Daily, Crivello and the Teamflow team were able to build the features they needed and iterate until the product felt right. "We experimented a lot!" says Crivello.
Online spaces with untapped, infinite potential
‍Despite his own negative experience, Crivello is optimistic about the future of remote work. No matter how effective it is to work together physically, there is a cap on what an in-person organization achieves: real estate, Crivello points out is finite. "I used to run out of whiteboards," he chuckles. Virtual rooms—and whiteboards—are infinite.
As Teamflow builds the collaboration layer across applications, giving teams a place to build culture remotely, they know that they have a partner that they can rely on for the most reliable, high-quality video calls.
"It's been amazing working with Daily."
Flo Crivello, CEO and cofounder, Teamflow