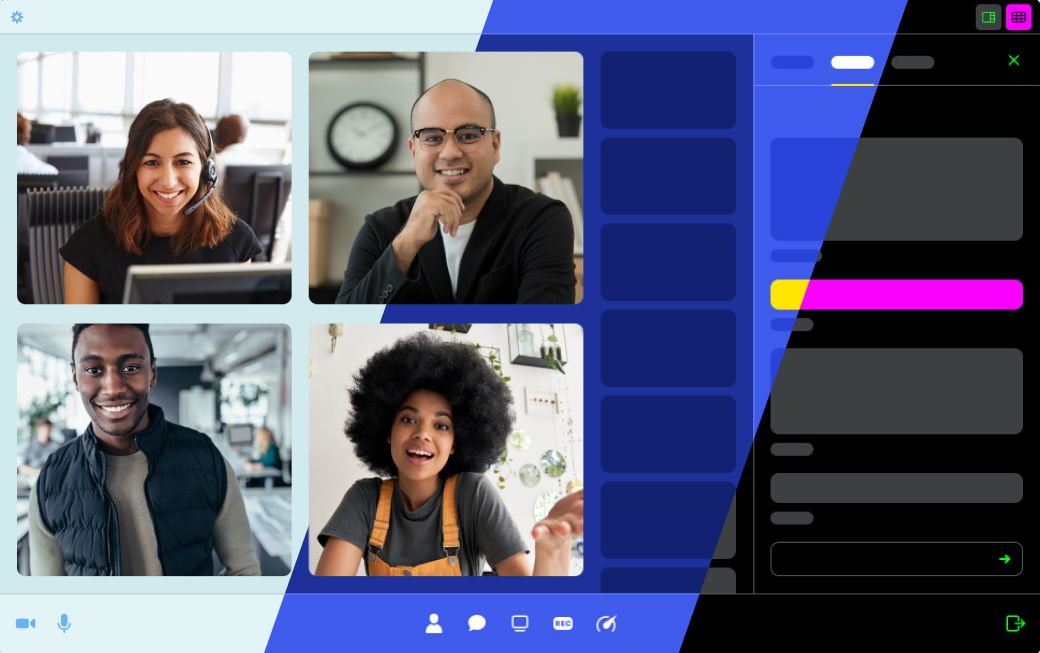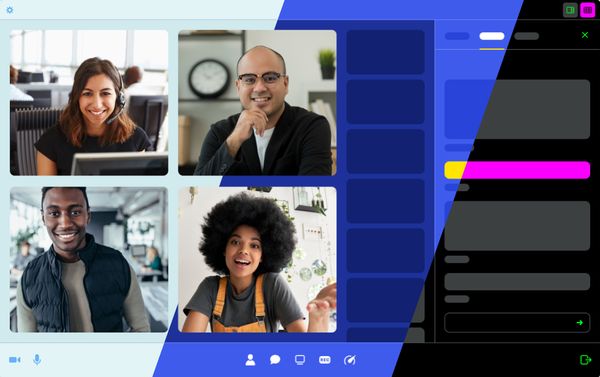 UPDATE November 2022: Daily now supports 100,000 participant interactive live streams. All 100,000 persons can join in real-time, with 25 cams/mics on. We also support 1,000 person large calls, with all cams/mics on.
We're pleased to announce an update to Daily Prebuilt, our embeddable call interface which works across browsers and devices. Developers can now customize colors of video-call UI elements, including the background, icons, and text, making Daily Prebuilt feel even more like a native component of your site or app.
Color theming has been our most popular request from customers who want to maintain brand consistency, and express their identity at every level of their product. With this new update, developers can now:
Add up to 10 different colors to Daily Prebuilt by assigning hex codes to different elements of the UI.
Apply up to two different color themes, in the event your site supports a light and dark mode.
Apply a subtle color accent to existing Prebuilt color themes, without overhauling the color of every component.
Color theming is currently available to all users.
Visualizing color themes using Figma
Alongside this new update, we're releasing color theming templates to help your team design and visualize how your color theme maps to the individual UI elements of Daily Prebuilt  — before you make changes to your code. These templates are part of our goal to give teams more and better tools to build with video, at every step of integration, including design and prototyping.

We built these templates in Figma — a free design tool that works within the browser and requires no download. Figma is integral to how many of our customers design and build. We use Figma ourselves, and value how easy to use it is, while being a powerful tool.
If you are a Figma pro, feel free to jump right in and start customizing your color theme! Here are links to the default dark mode and light mode theme files. To learn more:
If you have any questions while building, please contact us! We provide free support to all our users.
Giving developers — and designers! — more tools!
In the last year, we've made several major updates to Daily Prebuilt. We've expanded participant support for up to 15,000 callers, and recently rolled out a major UI/UX overhaul, including a revamped mobile experience.
Customization is now a key focus of our Daily Prebuilt roadmap. Custom color theming is the first stop — over the next few months, we'll add more customization elements. As always, our goal is to create the best possible developer experience, so developers can add powerful call features to any product, with ease and flexibility.
Today developers are implementing Daily Prebuilt for use in virtual classrooms, networking platforms, telehealth products, and more. We can't wait to see what our customers do with this new update to Daily Prebuilt, and we're even more excited to roll out more customization options in the near future. Watch this space!