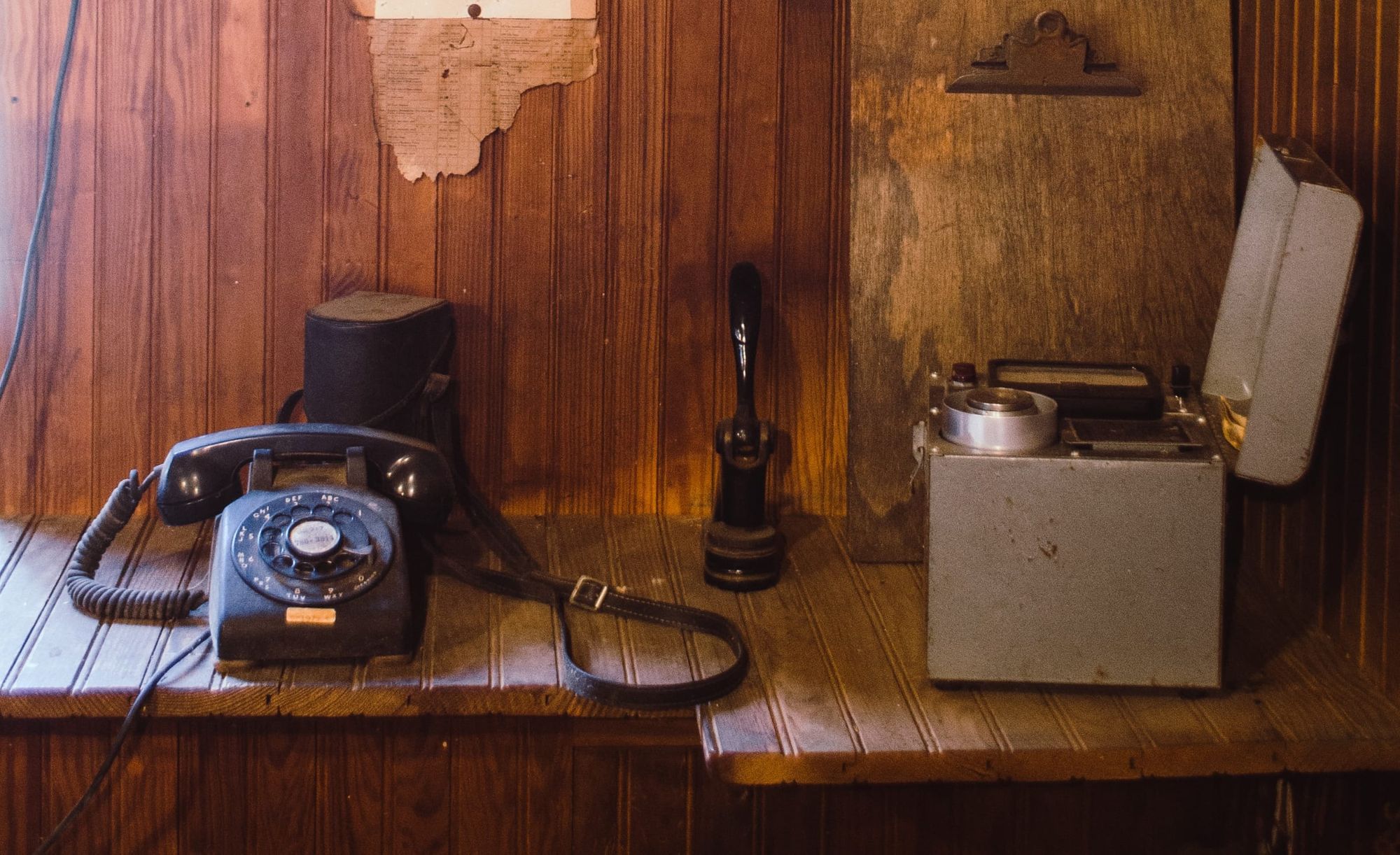 Founded in the 1980s, The Boston Computer Exchange (BCE) was the first e-commerce platform that existed. BCE was in many ways a precursor to eBay — a database with a list of inventory sold by different sellers. Buyers browsed the database, completed their purchase over the phone, and BCE billed the seller a commission fee.
It's easy to see potential problems in this system. Not surprisingly, BCE's first innovation was a payment system: BCE wanted to protect customers from fraudulent transactions, provide the best service for their users, and keep transactions on the platform to prevent leakage.
When it comes to video calling, many businesses are operating at a Boston Computer Exchange level of development, sharing many of BCE's early concerns. When businesses send their customers to external video conferencing tools, they no longer control or have insight into their customers' experience.
Events in 2020 caused companies to accelerate their digital initiatives faster than they would have otherwise. As a result, onsite video will become as common as onsite payment systems — or chatbots, or any of the other integrated services we take for granted. This innovation will take hold rapidly: a video API platform like Daily already lets developers quickly add video calling features to their own product, in just a few lines of code.
With no barrier to entry, there's no reason developers shouldn't add their own native in-app or integrated video chat. On the other hand, there are several good reasons every business, regardless of industry, can benefit from an onsite or in-app video tool.
Integrated video chat as a business solution

1. Video is a limitless way to connect at different stages of the customer journey
As consumers, we are familiar with video chat as a medium and comfortable with it as a sales platform. Nothing is off-limits on video: when it comes to B2B sales, the latest research shows that 32% of buyers feel comfortable spending $50k and $500k remotely. 12% of B2B buyers surveyed felt comfortable spending $500k to $1M remotely, and 15% over $1M.
Whether it's after-sales service, lead nurturing, customer support, or just connecting internally, video can support your business at different stages of the customer journey and beyond.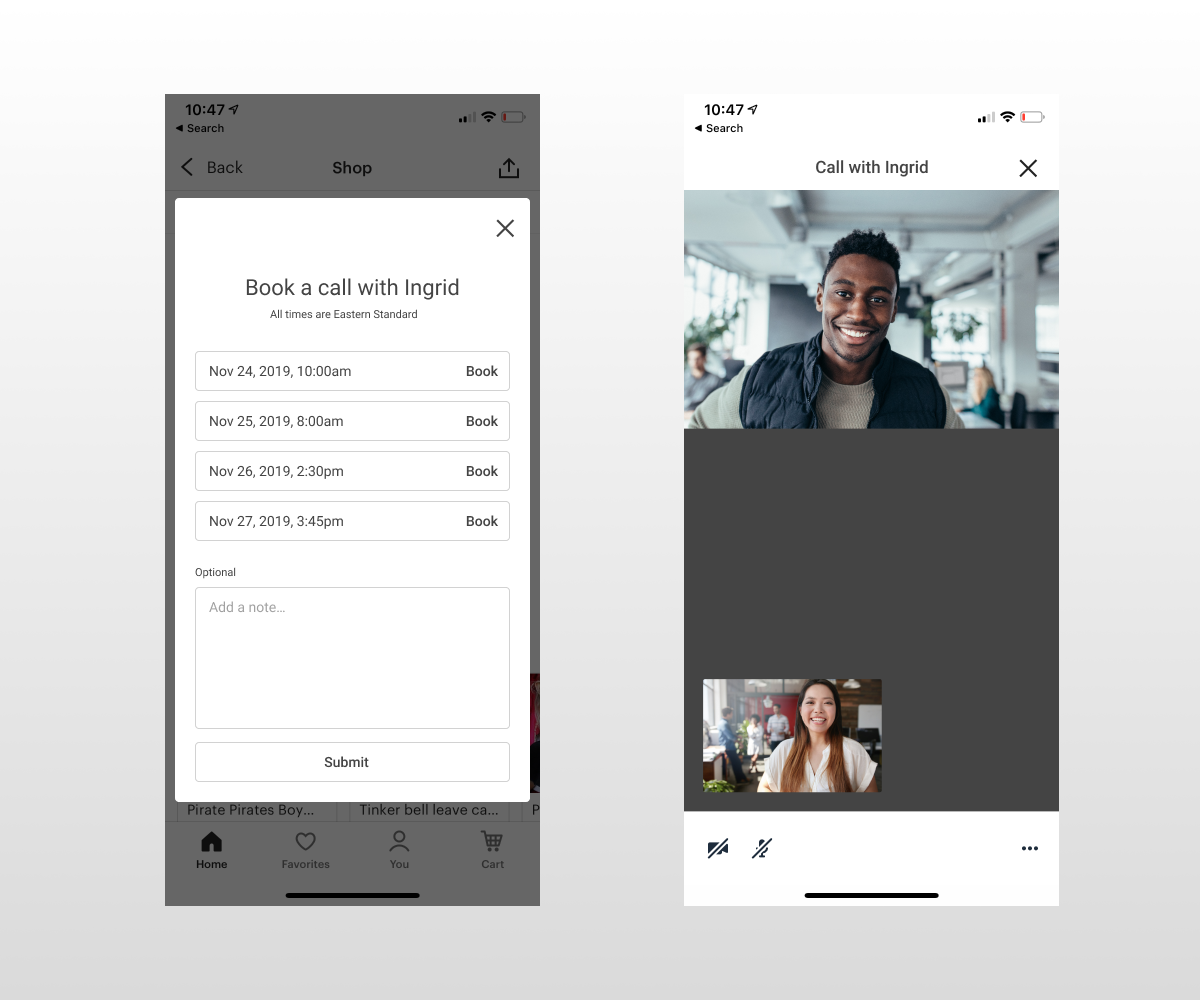 2. Native video is a better user experience
Sending your customers to a separate app introduces a needless point of friction in the user journey. Integrating video into your site and app is a streamlined alternative.
Design thinking results in more streamlined, beautiful apps and websites — but it also makes good business sense. According to McKinsey, the best designer performers outpace competitors in terms of revenue and shareholder returns at a rate of 2:1.

3.  A native video solution prevents against platform leakage and disintermediation
Platforms like eBay, Upwork, and Airbnb have developed trust mechanisms that catch and prevent exchanges that might include emails and phone numbers to prevent "disintermediation" — people using their platform to discover the perfect item, freelancer, or holiday rental… And then contacting the seller directly to avoid the platform fee.  
Especially if you rely on video for a lot of your service, you want to make sure you're monetizing your platform effectively. There are multiple reasons to keep your customers on site but a key priority is keeping customer loyalty rather than losing customers to different services.
4. Zoom wasn't built for wine tasting, or spinning classes, or auto sales…
Anyone who has watched a preschooler navigate a video call platform knows there has to be a better way. Whatever your line of business, you know your customer best. You know how they interact with your product and you can design with them in mind. A video calling API like Daily lets you build a product with your specific customer in mind. If it's important to have a giant "raise your hand" button (like an online learning K-12 platform might need!), you can incorporate that.
5. Native video provides greater insight over the user experience
When you use an external video platform, you defer your customers' experience to an outside party. Not only do you have limited insight into their experience, you leave them open to any security vulnerabilities that might affect an external platform. A native video solution provides real analytics, so that you're not relying on anecdotal information to make decisions.
Daily's video API makes integrating video calls easy
Building and maintaining your own video tool from scratch takes developer resources and time away from your core product. The complexities of video — in real-world environments —  are time-consuming and challenging. With Daily you can get up and running quickly, with all the flexibility of a robust API. Here are just a few of the benefits of using the Daily platform.
1. Fastest time-to-value
With the Daily prebuilt UI, you can add video calls to any site or app with a few lines of code.  We also make it easy to customize video UI/UX with our APIs and front-end libraries, providing developer support along the way, regardless of your pricing plan. We have experience across verticals and are happy to provide sample code.  
Simply put: we take care of video while you do the rest. As an API, we allow you to concentrate your resources on whatever differentiates your product strategically.
2. Granular, actionable call quality analytics
Understanding call quality is a priority. With the Daily API, you can look up a customer's call in your dashboard, see detailed call logging and telemetry data, and access well-designed data visualizations. Developers can also access our /logs endpoint, and use call data in tandem with the rest of your analytics suite.
When you rely on an external platform for video calls, your customer's experience is a black box. Our analytics data is straightforward and actionable, with no unintelligible logs.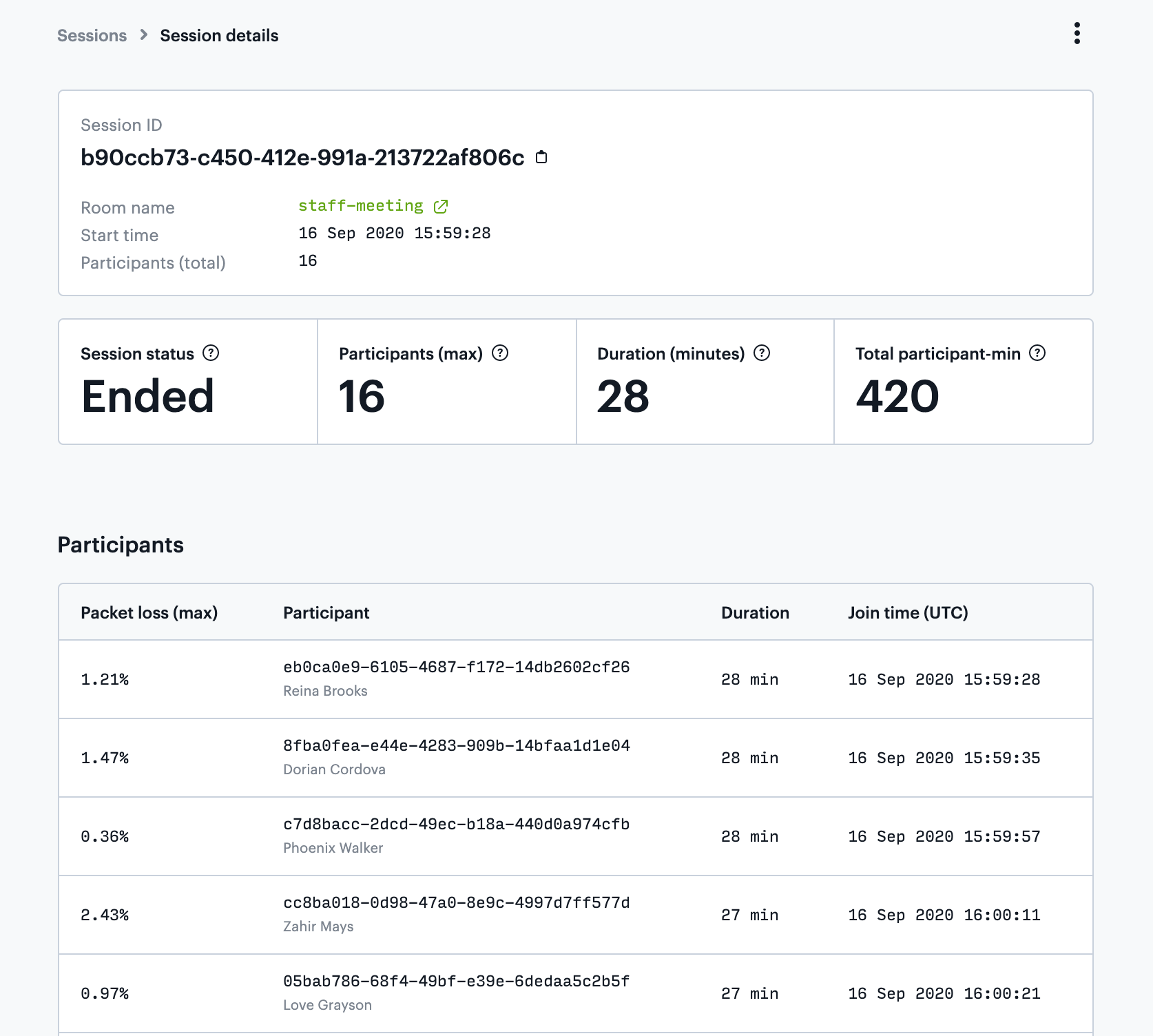 3. More feature support as standard — for both prebuilt and custom UI
Our prebuilt UI supports text chat, screen sharing, and recording out of the box. If you're building your own custom video layout, we let you quickly expand your own feature set — including four types of recording, live streaming, and more.
4. We do the heavy lifting (and stay on top of ongoing work)
Whether it's accommodating browser updates, optimizing for call quality, or continually adding new technical features, building on the Daily API means that you have an entire team working to ensure that your customers receive the best possible video and audio experience. Consider us your dedicated, remote dev ops team.
5. Sensible, intuitive pricing
At Daily, we calculate pricing based on the number of calls, the number of people on those calls, and the length each person spent on each call. We're completely transparent about pricing, with no hidden fees.
We're confident we offer the fastest time-to-value and the simplest pricing compared to other platforms. Developers can start with a free plan, with no credit card required. We offer different plans for different usage, and our base plan is completely free. If you're interested in learning more about how we stack up against the competition, you can read our detailed post on pricing here.
6. Secure, protected video calling
Daily calls use 256-bit TLS encryption. Call video, audio, and media are protected by AES-128 encryption.
Our data centers are SOC 1, SOC 2, and ISO 27001 certified. We do not store audio, video, or screen-sharing data, other than through our documented recording APIs. You can read more about call security and compliance at our Security Center here.
7. Compliance
In addition to secure calls, we meet standards for organizations with key compliance standards. The Daily platform is SOC 2 compliant. We also offer a HIPAA-compliant version of our API, which is specifically architected for compliance. Our HIPAA compliant version is notably more affordable than competitor products, because it was built from the ground up to enable compliance. This also makes it more efficient to implement; organizations can enable HIPAA-compliance on our prebuilt video chat widget, for example.
Ready to add video calling features?
We'd love to help! We're happy to talk further about anything you might need.