"Our goal is to increase accessibility to EMDR therapy for those who need it and to enable therapists to deliver care easily and effectively without technical hiccups or steep learning curves. Daily's video and chat features are critical to achieving this."
Zach Jordan, CEO of Easy EMDR
Key metrics:
22X revenue growth in the month following video integration
3 weeks development time saved with Daily
Additional 1 month saved with Daily compliance features such as HIPAA and chat
1 week from Daily integration to compliance-enabled live video
5% increase in trial conversion rate after implementing integrated video
6% increase in signup volume after implementing integrated video
Background
Zach Jordan never fathomed that the frustration he felt as a therapy patient would someday lead him to launch a company. Yet he now leads an organization that is improving and expanding access to therapy for patients and changing how therapists deliver care.

Eye Movement Desensitization and Reprocessing (EMDR) therapy helps people deal with trauma disorders. During a session, an EMDR therapist helps a patient focus on a traumatic memory while simultaneously leading them through bilateral-stimulation eye-movement exercises. This helps reduce negative associations with the memory.
EMDR can also address anxiety and depression related to the processing of traumatic memories and other adverse life experiences. The traditional method of administering treatment involves in-person sessions with a registered therapist who uses paper and crude digital tools to make notes and record data.
Patient frustration sparks a solution
"In high school, I was receiving in-patient EMDR therapy to help me deal with a traumatic incident," explains Zach Jordan, CEO of Easy EMDR. "The session itself was really cool but the technology used to deliver it was lacking, which detracted from my overall experience. In 2016, I decided to build a better, fully digitized version of the systems being used by therapists and offer it for free."

Jordan recounts that initially Easy EMDR did not have native video as part of the service. Instead, therapists were using the software with their own third-party screen-share tools like Zoom in order to connect with patients remotely.
"At the time, most treatment was provided in-person by therapists and very few offered or provided care online, so it was very early days for remote care," Jordan notes.

"I wasn't thinking of Easy EMDR as a business when I created the tool. I was just a patient who thought I could create better technology-based therapy tools than what existed. I received so much positive feedback and requests for more features from therapists that I started to take it more seriously," says Jordan.  From 2016 to late 2019, online patients mostly relied on screen share and combined Easy EMDR with for-pay HIPAA-compliant video screen-share services.
COVID changes everything
With the onset of the COVID-19 pandemic, EMDR therapists and patients found their routines upended and their ability to continue care jeopardized in this new remote-first world. Therapists had little time to pivot from conducting mostly in-person sessions to learning to use online video meeting tools to continue delivering therapy to their patients.
The transition for therapists and patients was challenging. Existing tools like Skype and Zoom had major pitfalls that led to a less than ideal experience. "The therapists and patients started asking for video capabilities directly in Easy EMDR, as they could control the bilateral stimulus remotely, but still had to use another platform to provide the video call. Daily allowed us to offer an all-in-one platform that combined our bilateral stimulus tools with a seamless video call."
HIPAA and technical challenges
The COVID pandemic created urgent demand for remote services to offer robust features like video and user-friendliness. COVID also presented a huge market opportunity for Easy EMDR: Jordan could achieve his goals of expanding access to care, and his company could grow significantly. But there were obstacles.
"It would be costly, super time-consuming, and complex to try to build a video solution that complied with HIPAA on our own. It was daunting. We needed a video solution that was affordable, easy to implement, intuitive for users, and HIPAA-compliant to ensure continuity of care for patients."
Zach Jordan, CEO of Easy EMDR
Gotta scale, fast
"Remote therapy was clearly going to be a big need during COVID. We had to up our game and scale fast," says Jordan. In 2019, Easy EMDR launched a professional version of its service with a paid plan, but the search continued for a way to add HIPAA-compliant video and other features.
Easy EMDR's wish list for a video integration solution included:
HIPAA compliance
Ease-of-use for end users (therapists and patients)
Affordable pricing and no large upfront fees
Good product documentation
Simple integration with the Easy EMDR platform
Finding Daily
Jordan evaluated the available options on the market and was unimpressed. "We tried Zoom's SDK for HIPAA-compliant video, and it couldn't do much of what we needed. We initially tried integrating it into our tool, but it was messy. Video would overlap and clip into things and there was some Z-index fighting and weird bugs that we didn't have time or resources to deal with." Similar analysis of Skype found it also lacking in user-friendliness and performance.
"It ended up taking less time for our team to fully integrate a functional solution with Daily than it took to parse through the documentation of some of the competitors, such as Zoom."
Zach Jordan, CEO of Easy EMDR
Jordan discovered Daily via a simple Google search. He found that Daily's flexible APIs could integrate easily, deliver video quickly and seamlessly, and offer all-important HIPAA compliance. Easy EMDR integrated Daily video into its platform, followed by chat. "Daily was a pretty complete package in 2020 and it's gotten even better since then." Among the many capabilities and benefits of using Daily, several have stood out.
Daily's benefits
Ability to add HIPAA compliant video with a small staff was critical
The first to offer a fully supported embed via Daily Prebuilt that can be compliance enabled.
Quick integration of video and tools into the Easy EMDR platform
Good documentation references
Time and money saved on integration: integrating Daily's zero-maintenance components without having to change Easy EMDR's own code
Prompt and responsive customer-service support
Robust tools free from technical issues
Saving three weeks of three developers' time by having HIPAA-compliant chat app come built in with Daily
"It only took us a week to get video up and running and integrated on our platform, and with only one developer. To be able to do that, and with HIPAA compliance, is pretty amazing."
Zach Jordan, CEO of Easy EMDR
End users of Easy EMDR also appreciate the benefits Daily has helped to deliver. "Our platform really saves therapists and patients time," says Jordan. "Therapists who had spent decades doing in-person therapy, and suddenly had to transition to remote service, were initially intimidated and skeptical of remote-care technology. However, they found it really easy to use our video service, navigate the user interface, and save patients time. All users had to do was click a button to get video."

Therapists on Easy EMDR's platform now use screen share and chat to manage all the people on a video call and easily toggle between views. "Daily works well for people who have used other video platforms like Zoom or Skype. It's intuitive to navigate. Adding video and chat made it a better experience and reduced the technical barriers for therapists and patients," says Jordan. "Now people can get care anywhere they live."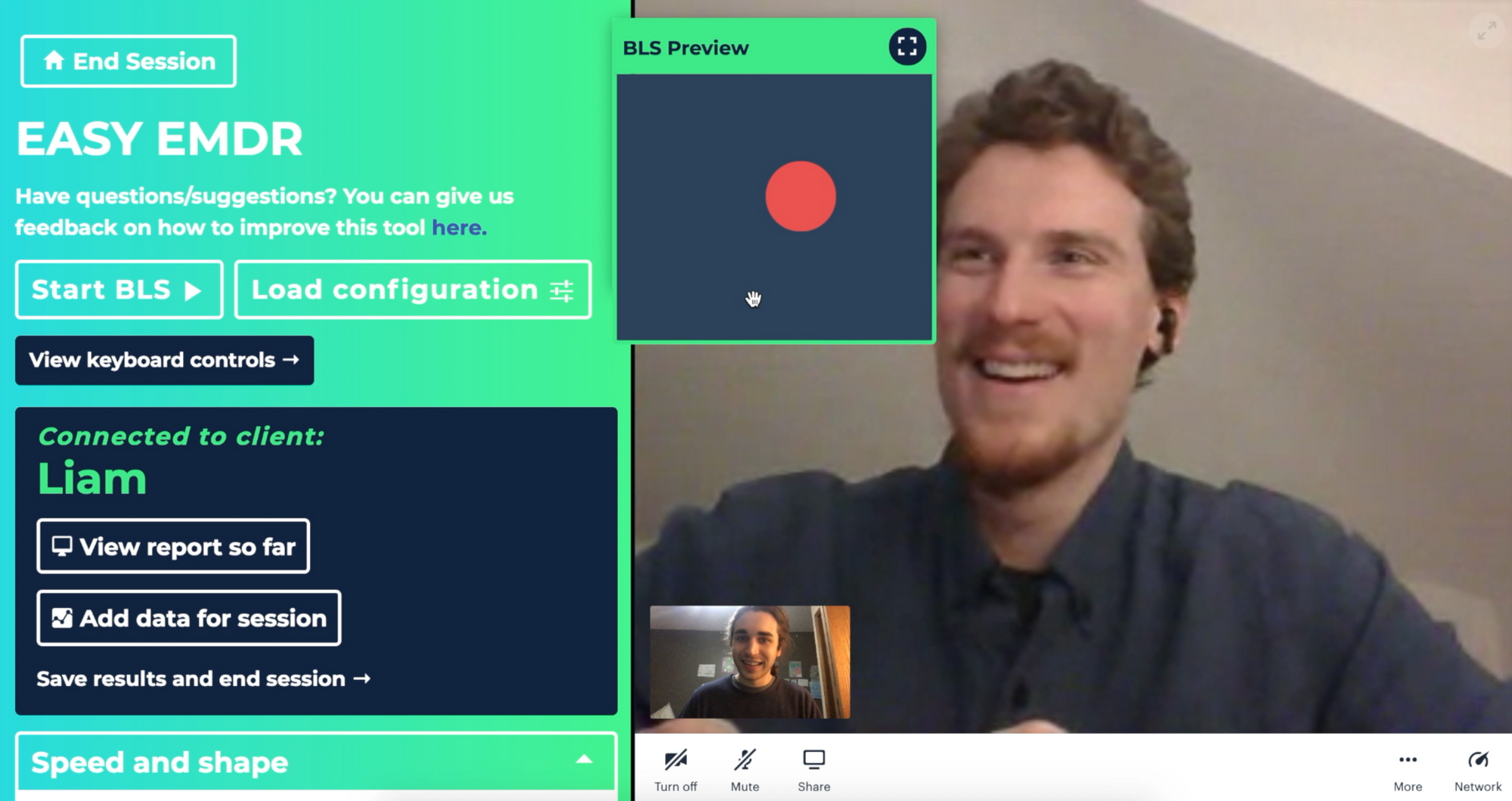 The future of therapy is…easy
The ability to respond to sudden market demand paid off. "Now we are able to provide a versatile, clinical-grade EMDR tool at the fingertips of therapists and patients," says Jordan. As a result, Easy EMDR has grown several times over since it started using Daily and saw results including:
22X revenue growth in the month following video integration
3 weeks development time saved with Daily
Additional 1 month saved with Daily add on features such as HIPAA and chat
5% increase in trial conversion rate after implementing integrated video
6% increase in signup volume after implementing integrated video
The company has also continued to grow the team over time, and is planning for an even brighter future with Daily in which it will:
Build a robust mobile-app video experience so people can receive care by phone with seamless interoperability between web and phone apps
Create group session support
Add services for other forms of therapy, such as talk therapy
Looking back on his journey, what means the most to Jordan is knowing he's making a difference in people's lives. Not only is Easy EMDR a pioneer through its philanthropic efforts (being the second company in the US to adopt the Giving What We Can pledge to donate 10% of company profits to effective charities) the company also continues to succeed in its mission to help people access the care that they need.
"Our mission is simple: to make life-changing therapies and treatments more accessible and affordable for all who need them. With Daily's help, today we're able to provide telehealth and other services for therapists that allow them to deliver therapy in-person or remotely to patients seamlessly and securely."
Zach Jordan, CEO of Easy EMDR